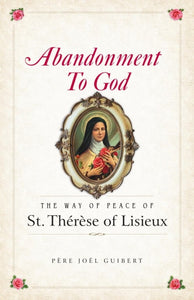 Abandonment to God The Way of Peace of St. Therese of Lisieux
Product SKU: 8340
Regular price $17.95 Sale
With simplicity and grace, these pages illuminate for you the wisdom in Saint Therese's Little Way, showing how it can enable you, too, to abide in the serenity of the children of God.
Led here by the wise Father Joel Guibert, you'll soon come to realize how easy — and how good — it is to surrender yourself to God's providence (as Therese did): in your prayers, in your dealings with others, in your concerns about your loved ones, in your sufferings, and yes, even in your joys.
Saint Therese's way of abandonment lightens every burden of day-to-day life. Lighten your own burdens by learning from Father Guibert how to make it your way, placing every worldly care confidently in the hands of the Almighty. You'll grow quickly closer to God and, even in life's darkest moments, come to share in the peace and joy He promises. In these pages, you'll learn from Saint Therese:
How to trust God despite evils that beset you
How to overcome your fear of abandoning yourself
How to abandon yourself to God

 

fully, without holding anything back
How abandonment to God will diminish your sufferings
How even your weaknesses can benefit you
What to expect when you abandon yourself to God
And much more!