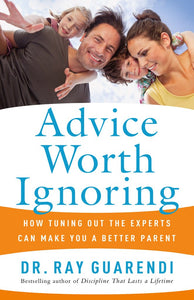 ADVICE WORTH IGNORING - 9781632531322
Product SKU: 9781632531322
Regular price $15.99 $15.99 Sale
In Advice Worth Ignoring, Dr. Ray identifies fifty of the most common child-related truisms and parenting myths that can often mislead and undercut parents, and explains how the virtues of prudence, temperance and fortitude can help any parent discern the best course of action for his or her own family. Parents are encouraged to ask themselves: Does this have merit for our family, with our morals? Does it make sense? Does it align with wisdom confirmed through generations?
Covering a range of ages and stages, from the early years (????It????????s a stage; it will pass?????¬) to the teenage years (????Don????????t make your child lie?????¬), this book gives dedicated parents the tools they need to spot the hidden assumptions colored by pop psychology, and make parenting choices that are consistent with raising up good Catholic kids.
Parents who read Advice Worth Ignoring will feel empowered to judge the advice that????????s right for their own family, regardless of who doles it out. Contains a special section specifically for adoptive parents.
PAPERBACK/160 PAGES