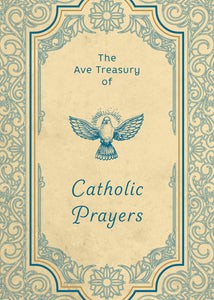 Ave Treasury Catholic Prayers
Product SKU: 9781646802265
Regular price $19.95 Sale
The Ave Treasury of Catholic Prayers is an indispensable keepsake of classic and contemporary prayers that every Catholic should know.
This timeless resource includes a variety of devotions, psalms, and litanies that showcase the diversity of voices and traditions that have been part of the Catholic Church for more than two thousand years.
The hardcover, full-color volume contains all of your favorite prayers and some that will become familiar over time, including:
essential prayers, such as the Our Father, Hail Mary, creeds, and Confiteor;
prayers for talking with God throughout the day;
prayers for the Sacraments of Reconciliation and Holy Communion;
devotions and consecrations to Jesus, Mary, and Joseph; and
prayers from saints for each of the five main forms of prayer listed in the

 

Catechism of the Catholic Church—prayers of blessing, petition, intercession, thanksgiving, and praise.
Elegant, vintage lithographs and engravings taken from traditional prayer books, psalters, and Bibles and presented in a contemporary design add to the beauty of the book.
An index makes it easy to find prayers based on the saint or topic of devotion.