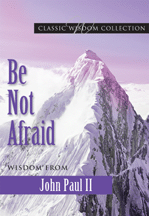 BE NOT AFRAID - 12218
Product SKU: 12218
Regular price $9.95 $9.95 Sale
This collection contains famous writings, audiences, and homilies from the beloved Saint John Paul II. Born Karol Wojtyla in Poland, he went on to become a clandestine seminarian during World War II and was elected pope in 1978 at the age of 58. He survived an assassination attempt, attended the Second Vatican Council, and was instrumental in the fall of communism in Poland.
Over the 26 years of his papacy, John Paul II captured the minds and hearts of Catholics everywhere. He spoke multiple languages fluently and traveled more than any of his predecessors, visiting over 150 countries. During those years, he also was guiding the Church through the changes brought about by Vatican II.
Trust in God is difficult, even in the best of times. John Paul II trusted God during every hardship that came into his life. His conviction of God's faithfulness is evident in his words. Be Not Afraid and let John Paul II illuminate the authentic freedom that comes from confidence in God's love.