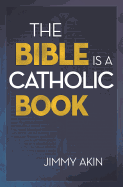 BIBLE IS A CATHOLIC BOOK
Product SKU: CB454
Regular price $17.95 Sale
PAPERBACK
AUTHOR: JIMMY AKIN
Many Protestants call themselves ????Bible Christians?????¬???????in contrast with Catholics, who ignore the Bible because they have the Church instead.
Too many Catholics have taken this mistaken assumption for granted.
We don????????t have to anymore, says Jimmy Akin.
Instead, we should embrace Sacred Scripture???????not just as the revealed written word of God but as a thoroughly?????¡Catholic?????¡work, intimately connected with the Church from the earliest centuries.
In?????¡The Bible Is a Catholic Book,?????¡Jimmy shows how the Bible cannot exist apart from the Church. In its origins and its formulation, in the truths it contains, in its careful preservation over the centuries and in the prayerful study and elucidation of its mysteries, Scripture is inseparable from Catholicism. This is fitting, since both come from God for our salvation.
If you????????re a Catholic who sometimes gets intimidated by the Bible (especially scriptural challenges from Protestants),?????¡The Bible Is a Catholic Book?????¡will help you better understand and take pride in this gift that God gave the world through the Church. We are the original ????Bible Christians?????¬!
And even non-Catholics will appreciate the clear and charitable way that Jimmy explains how the early Church gave us the Bible???????and how the Church to this day reveres and obeys it.