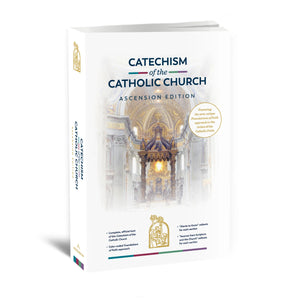 Catechism of the Catholic Church Paperback
Product SKU: 9781954881891
Regular price $39.95 Sale
Now, everyone can learn and understand the teachings of the Catholic Faith.
The Catechism contains the truth and beauty of the Catholic Faith's most foundational teachings applied to the modern day. The Catechism of the Catholic Church, Ascension Edition makes the wisdom of this foundational document accessible through the Foundations of Faith approach.
This exclusive, specially designed edition clearly shows the ancient roots of the Faith and, with The Catechism in a Year (with Fr. Mike Schmitz) podcast, helps Catholics integrate the fullness of Catholic teaching into their daily lives.
There has never been an edition of the Catechism so revolutionary for Catholics seeking to understand the teachings of the Catholic Faith. Reviewed by top experts, theologians, and scholars, this edition has built-in tools that have never been provided in any other edition.