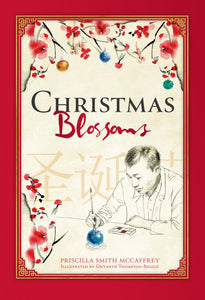 Christmas Blossoms
Product SKU: 5785
Regular price $17.95 Sale
by Gwyneth Thompson-Briggs
Zhang Jian is a master artist of interior glass painting. He celebrated Christmas as a child before?????¡the Communist Revolution overturned his simple and beautiful world. But he never forgot the?????¡sights, smells, good cheer, and happy anticipation of that joyous season.
Familiarity with the enchantments of Christmas is a rare thing in China. Throughout his life,?????¡quiet Jian draws on this private inspiration to craft especially lovely Christmas ornaments for?????¡girls and boys across two oceans, bringing financial success to the glass works factory where he?????¡is employed.
After Midnight Mass, overcome with sacred emotion, old Jian designs and paints one last?????¡ornament with the intention of inspiring the men and women of his country to understand who?????¡they are in relation to the Christ child.
Christmas Blossoms?????¡is an impassioned and imaginative tale that explores the fascinating irony?????¡of our most cherished Christmas objects, both sacred and secular, produced by the artists and?????¡craftsmen of Communist China. In their imaginations, in the depth of their hearts, what do?????¡these artisans think of the mangers, the shepherds, Santa Claus, and Mother Mary? Of the star,?????¡the bells, the holly, and the Wise Men? Most significantly, what do they make of the Holy Child?????¡Who exists at the heart of the West?
A story for young and old, parents and children alike, this beautifully illustrated novella?????¡captures how the Christmas spirit endures and stirs hearts despite the antagonistic forces of?????¡commercialism and oppression???????and it will touch your heart as well. Prepare to be swept away?????¡as you witness the precious moment when Christmas returned to China.