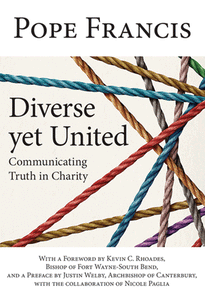 Diverse yet United: Communicating Truth in Charity
Product SKU: T2613
Regular price $15.95 Sale
As disciples of Jesus Christ, we are called to dialogue and encounter. We are expected to be welcoming and open to all people, including those who think differently from us or who hold conflicting opinions. We are also called to share the Truth, which is God????????s love for us in Jesus Christ.
????[Jesus] asks us not to fix our gaze on what divides us, but rather on what unites us, seeking to know and love Jesus better and to share the richness of his love,?????¬ Pope Francis writes in?????¡Diverse yet United: Communicating Truth in Charity.
Jesus???????? love spurs us to dialogue, helping us to listen to one another and to get to know others. His love becomes the foundation of human solidarity and renders us capable of overcoming the barriers of our own weaknesses and prejudices. Jesus???????? love within us creates bridges, teaches new paths, and triggers the dynamism of fraternity.
Pope Francis invites us to communicate the Lord's merciful love to the whole world: ????We too are given the gift of the ???????tongue???????? of the Gospel and the ???????fire???????? of the Holy Spirit, so that as we proclaim the risen Jesus, alive and present among us, we may warm our hearts and the hearts of peoples, bringing them closer to him, the way, the truth, and the life.?????¬