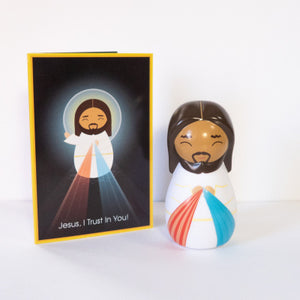 DIVINE MERCY SHINING LIGHT DOLL
Product SKU: 854386004585
Regular price $13.99 Sale
Meet Divine Mercy Jesus!?????¡?????¡The feast of Divine Mercy is celebrated on the first Sunday after Easter Sunday.
"Lay your head on my shoulder, rest and regain your strength.?????¡?????¡I am always with you"
-Jesus to St. Faustine
On February 22, 1931, Jesus appeared to St. Faustina, a Polish nun, and delivered the message of Divine Mercy. Jesus asked St. Faustina to have an image painted of him standing with two rays coming from his chest, with the words, "Jesus, I trust in You" underneath. The rays represented the blood and water that poured out when he was pierced by the lance after his crucifixion. Jesus instructed St. Faustina that this image would be a reminder to all mankind of God's endless mercy. Jesus said it should also be a reminder to us that we are called to show God's love and mercy to others as well.
Plant the seeds of a lifelong faith with everyone's favorite Catholic saint toys!
Included in the box is a fun and educational insert.
Each doll is made of high quality rotocasted vinyl; which means nothing moves, breaks or falls off! The dolls have been safety tested and approved for children of all ages (zero to 100!) Measuring at slightly over 3.5 inches- this little figure is a perfect fit for a child's hand, and makes an adorable addition to a desk or nightstand.
Shining Light dolls are also great hospital gifts; easy to clean, light and unbreakable, a cheerful reminder of our family in heaven!
A fantastic blend of new and old, these dolls are a great way to introduce your love ones to the beauty and depth of the Christian faith! Shining Light Dolls are our friends for the journey, little lights to the world! For children, and the young at heart!
Safe for children, toddlers and babies of all ages- from zero to 100! A fun and faithful gift for children and adults alike!