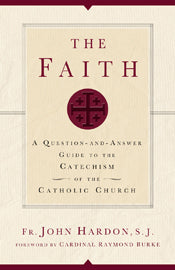 FAITH - T36775
Product SKU: T36775
Regular price $16.99 $16.99 Sale
In this new reissue of Fr. Hardon????????s classic, the universal Catechism of the Catholic Church is presented in an easy-to-use question-and-answer format. He zeroes in on what question each section is trying to answer and formulates that question in user-friendly language. He then gives a simple answer in his own words, referencing the section of the Catechism that addresses the question.
Still as fresh and relevant as when it was first released, The Faith makes the Catechism of the Catholic Church accessible to a new generation of readers. Fr. Hardon helps to form Catholics in the faith by focusing on the principle points of doctrine, moral teaching, and spirituality conveyed so richly in the Catechism. In the pages of this book, you????????ll learn:
???????What the faith we profess is all about
???????Why Christianity is the most credible religion in the world
???????How the Catholic Church possesses the fullness of truth
Catholics today have a greater responsibility than ever before to educate themselves first and then the world???????a world that is starving for knowledge of Christ and his truth. This question-and-answer guide will be a valuable addition to your library.