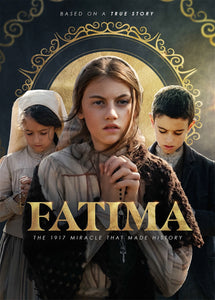 FATIMA: THE 1917 MIRACLE THAT MADE HISTORY
Product SKU: FATIM
Regular price $17.95 Sale
A powerful and uplifting feature film that tells the dramatic true story of the apparitions of the Mother of God in 1917 to three shepherd children in Fatima, Portugal. The revelations from their visions inspire believers but anger officials of both the Church and the secular government, who try to force them to recant their story. The children must convince them of Our Lady????????s appearances, and her urgent message to the world for prayer, penance and conv
ersion.
As word of their visions spreads, tens of thousands of pilgrims flock to Fatima in hopes of witnessing a miracle. Over 70,000 witnesses experience the spectacular Miracle of the Sun that will change their lives forever. Stars?????¡Harvey Keitel, Gorin Visnjic, Joaquim de Almeida, Sonia Braga, Stephanie Gil,?????¡and?????¡Lucia Moniz.
Endorsed by the Vatican and Fatima Shrine, with original song by?????¡Andrea Bocelli.
Includes Bonus Features with 8 ????Behind the Scenes?????¬ Featurettes, and a special piece highlighting?????¡Andrea Bocelli?????¡and his inspiring original movie song.
Includes Bonus Features with 8 "Behind the Scenes" Featurettes:
Andrea Bocelli: The Making Of Gratia Plena
Meet the Seers of FATIMA
Meet the cast of FATIMA
The Making of a Miracle
The vision of Director Marco Pontecorvo
Costume Design and the Art of Daniela Ciancio
Set Design and the Art of Cristina Onori
Behind the lens of FATIMA
Subtitles: English SDH (CC), French Canadian, Latin American Spanish