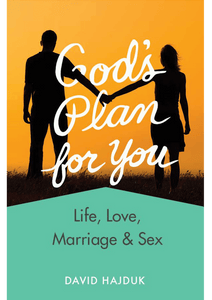 Gods Plan For You
Product SKU: 31395
Regular price $16.95 Sale
It's time for an updated, compelling, teen-friendly explanation of God's plan for life, love, marriage, and sex, in light of St. John Paul II's Theology of the Body, (often referred to simply as TOB). That's exactly what God's Plan for You provides.
This is a useful update to a very popular book that works well for individual reading but also for group study and discussion. It's an excellent resource for youth ministers, catechists, pastors, and parents, as well as a must-read for Catholic teens.
Although the text deals with many difficult issues, TOB provides a helpful framework that young people can relate to, and this book provides a clear and entertaining understanding of TOB. Author David Hajduk breaks it down into easy-to-understand components, unfolding layer after layer of understanding that the reader can easily assimilate.