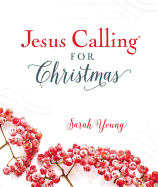 Jesus Calling for Christmas, Padded Hardcover, with Full Scriptures
Product SKU: 9781400309184
Regular price $17.99 Sale
Are the holidays too hectic? Take a few minutes to savor the season with this beautiful Christmas edition of "Jesus Calling" devotions, a perfect gift that includes 50 short selections along with festive and breathtaking imagery.
With 50 seasonally themed selections in?????¡Jesus?????¡Calling(R)?????¡for?????¡Christmas, you'll find devotions that include:
The Christmas story
Old Testament prophecies about Jesus' birth
Peace for the busy season
Joyous reasons to celebrate
Exquisite imagery
Written-out Scripture verses
Whether a self-purchase to enhance your observation of Advent and the birth of the Christ child or a gift for friends and loved ones in the biggest shopping season of the year,?????¡Jesus Calling(R)?????¡for Christmas?????¡will be a holiday favorite for years to come.