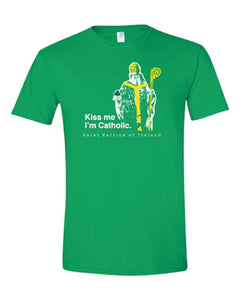 Kiss Me, I'm Catholic - St. Patrick of Ireland T Shirt
Product SKU: KMIC-GN-S
Regular price $18.95 Sale
Let this shirt kiss your torso, and don't get pinched for not?????¡wearing this green T next St. Paddy's day!

Nothing is more popularly Irish than the?????¡famous Catholic Bishop, St. Patrick. Held captive in pagan Ireland until the age of 20, St. Patrick escaped thanks to a guiding dream where God told him to find sailors at the coast who would take him to Britain. A few years after reuniting with his family, St. Patrick had a vision of a man named "Victorious" coming from Ireland with a letter from the oppressed people in Ireland saying, "We appeal to you, holy servant boy, to come and walk among us." This vision incited St. Patrick to study for the priesthood, and eventually return to Ireland as bishop where he was instrumental in converting the pagan land to a Christian nation, starting with a violent chieftain of a druid tribe. St. Patrick taught the Gospel to the entire nation for 40 years, famously using the shamrock to illustrate the trinity to the pagan?????¡people. St. Patrick's enduring faith lasts to this day, where "Irish Catholic" is a typical term for many devoted to the Church with special gratitude to this great Saint.
Extend the testimony of St. Patrick of Ireland?????¡to others, regularly regain your inspiration from St. Patrick's example, or exercise generosity by giving a friend the gift of St. Patrick's witness to Christ and His Church with this?????¡That One Sheep?????¡shirt.