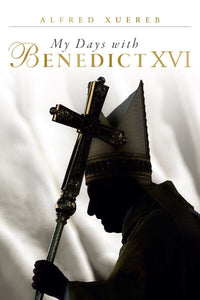 My Days with Benedict XVI
Product SKU: 0453S
Regular price $24.95 Sale
Few popes have been so misrepresented and maligned for their steadfast defense of the truth as Pope Benedict XVI. Here Msgr. Alfred Xuereb, one of his personal secretaries, shares an intimate look at the daily life of the late pontiff and his witness to the Faith. These precious pages serve to set the historical record straight, as Msgr. Xuereb elucidates never-before-shared details of his spiritual father????????s holiness, which will help you grow in yours.

In these brief yet profound entries you will discover surprising inside information and details about Pope Benedict XVI, including:

Why he really abdicated the Chair of Peter
Five little-known qualities about his personality
How the pontiff prayed, and some of his favorite hobbies and talents
What it was like to spend a day with him (Can you guess what he liked to do for fun?)
Ways he fostered congeniality and collegiality (even at dinner!)
The Holy Father????????s recollections of when he was a small boy
From his first days serving as Pope Benedict XVI????????s secretary to the last moments of the pope????????s pontificate, Msgr. Xuereb openly shares personal memories of laughter and tear-filled times, such as the pontiff????????s abdication. You will see what it was like to spend Christmas and Lent with Pope Benedict XVI, and you will read rare and fascinating details about his personal meetings with international dignitaries of both Church and state.

You will learn about the Holy Father????????s friendships, sense of humor, and genuine concern for each person he encountered and will marvel at the spiritual insights and fervent devotions you will find in these simple yet rich reflections. Also featured are select quotes, meditations on some of the pope????????s most penetrating addresses, and an engaging interview with Msgr. Xuereb.