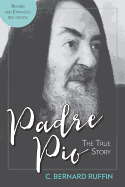 Padre Pio: The True Story, Revised and Expanded, 3rd Edition
Product SKU: T1677
Regular price $26.95 Sale
St. Pio of Pietrelcina, pray for us.
Before his death in 1968, Padre Pio was known throughout the world as a very holy man "?????" many even called him a living saint. This humble Italian priest who bore the wounds of Christ received thousands of letters and visitors each year, seeking his spiritual counsel, healing, and prayer. Padre Pio's intense spirituality and holiness remain legendary and life-changing.
This is the comprehensive life story of the priest who became world famous for his stigmata, miracles, and supernatural insights. Read in detail about the many miracles of Padre Pio, and discover how knowing this powerful saint can change your life, too.
By far the best biography of Padre Pio ever written "?????" newly updated with more details and 16 pages of photos!
PAPERBACK