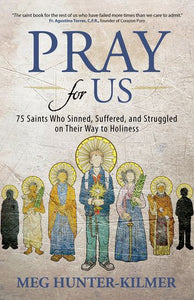 Pray for Us: 75 Saints Who Sinned, Suffered, and Struggled on Their Way to Holiness
Product SKU: 9781646800827
Regular price $18.95 Sale
Author: Meg Hunter-Kilmer
How is it possible that a chain-smoking socialist, a teenage video gamer, an opium addict, a satanic high priest, a disabled beggar, and a self-absorbed mean girl became saints?

Popular itinerant missionary Meg Hunter-Kilmer will stretch your preconceived notions of holiness by exploring the lesser-known lives of seventy-five extraordinary people whose human struggles and limitations reveal the power of God????????s grace.

Pray for Us isn????????t your ordinary saint book: Hunter-Kilmer highlights the sorrows, struggles, and idiosyncrasies of broken people who turned their lives around and dedicated themselves to God and his work. Through these edgy profiles, full of fresh and fascinating stories, she explores the universal call to holiness and how God can transform anyone???????from grouchy theologians to bratty teenagers???????into saints. You????????ll discover that anyone???????even you???????can become a saint if you trust in the Lord.

Among those you will meet are

-Blessed Carlo Acutis, an ordinary Italian teen who enjoyed video games and loved the Eucharist but refused to waste time on things that weren????????t pleasing to God.
-Blessed Sara Salkahazi, a chain-smoking socialist and wild-child from an upper-class Hungarian family who exposed the plight of the working class and smuggled Jewish people to safety during World War II.
-Blessed Victoire Rasoamanarivo, a married woman who defied the opposition of her difficult family to lead the Church in Madagascar.
-St. Dulce Pontes, the daughter of a wealthy family in Brazil who decided to serve the poor by becoming a nun and teaching literacy to children and their parents in the slums.
-Blessed Bartolo Longo, a satanic priest who returned to the Church, worked to bring people back to Christ, founded schools for the poor, established orphanages, and created Rosary groups.
-St. Mark Ji Tianxiang, a Christian opium addict who never got clean but still had the courage to die a martyr????????s death for his beliefs during the Boxer Rebellion in China.
Hunter-Kilmer presents the unvarnished lives of the saints and holy people in a way that reveals the power of God????????s grace in their lives. Their stories???????and especially their brokenness???????are relatable to us all.

An extensive index that includes names, feast days, and patronages will help you find the inspiration you are looking for in the lives of these holy people.