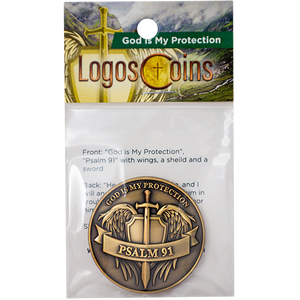 Psalm 91 Protection Coin, Antique Gold Plated
Product SKU: COIN-39
This high quality antique gold plated challenge coin is an excellent token of faith to carry with you in your pocket, or to pass along to those in need of encouragement. This special Psalm 91 coin is meant to help facilitate peace in even the most trying times. Whatever your challenge, whatever your battle, know that the King of Kings is on your side. Great for people in public service professions: police officers, firefighters, EMS, paramedics, soldiers, military personnel, doctors, or nurses.
This beautiful divine protection challenge coin is a perfect tool to serve as a subtle reminder of faith. Great to keep in a pocket, purse, or backpack to carry with you wherever you go, or put it on display on any table or desktop.
Carefully and exquisitely designed, this Psalm 91 protection Bible verse challenge coin makes the perfect gift or token of encouragement to pass out to friends or family. Make someone's day with a simple, kind gesture and a small gift. Also a great tool for bulk teaching aids and object lessons at church, school, small groups, or youth groups.
This protection Christian challenge coin comes in gift-ready packaging. Makes for the perfect present as a token of gratitude, appreciation, or encouragement. Remind someone that they are not alone, and that there is a God who loves them.
Front: Angel wings with sword and shield, with text, "God is my protection" / "Psalm 91"
Back: Text, "He shall call upon Me, and I will answer him; I will be with him in trouble; I will deliver him and honor him. Psalm 91:15"
Size: 1.75"