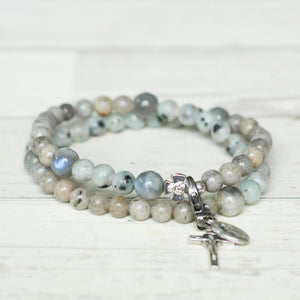 Rosary Bracelet: Vianney (Stretch & Wrap)
Product SKU: 731132307933
Regular price $35.00 Sale
This beautiful gemstone rosary bracelet features Labradorite beads as the paters and Feldspar and Kiwi Jasper beads as the aves. Each of our stretch and wrap rosary bracelets is a full rosary. Small rosary bracelets do not include the first three aves. Each bracelet also includes a "bookmark" crucifix medal. This medal is moveable and can help you keep track of where you are at in your rosary as you pray throughout your day.
Each bracelet is strung on durable elastic making it easy to stretch and wrap around your wrist without fear of snapping it.
This bracelet is named after St. John Vianney. John Vianney was born in France in 1786. He grew up in a very Catholic family. However, in 1790, priests and religious had to go into hiding during the French Revolution. The Vianney family hid many of them and because of this John met many different religious and priests. To him, priests were heros. In secret, he prepared for his First Holy Communion and eventually his Confirmation as well.
John????????s education was difficult because of the disruption of the revolution. He worked hard, but struggled, especially with Latin. Eventually, the Catholic Church was allowed once again in France and religious freedom was established. John began studying for the priesthood, but was drafted into Bonaparte????????s army. John eventually deserted and for over a year, lived in hiding in the small village of Les Noes. When deserters were forgiven, John returned to school and continued his education in seminary.
He was ordained a priest in 1815. He eventually was appointed pastor of a parish in Ars, France. The people in his parish were poorly formed in the faith and it was a great struggle for John. He instructed the people in his homilies and spent eleven to twelve hours in the confessional daily. His attentiveness to the parishioners had a great impact. A once almost empty church became filled for Mass. Parishioners were praying and receiving the sacraments.
John Vianney did all he could for his parish. He not only administered the sacraments, but he also did incredible penances. He was canonized in May 1025. He is the patron saint of parish priests.
St. John Vianney, pray for us!