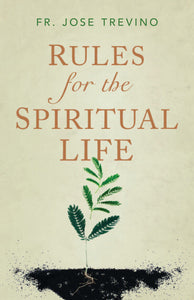 Rules for the Spiritual Life
Product SKU: 9028
Regular price $18.95 Sale
BY JOSE TREVINO
As in biological life, spiritual life has its iron laws ordained by God that must be followed for one to thrive. In this practical and edifying book, Fr. Jos?? Guadalupe Trevi??o presents these laws and shows how to employ them to make spiritual progress.

Fr. Trevi??o devotes a full chapter to each of the eighteen rules, unpacking their significance and benefits. You will profit from St. Thomas Aquinas??ç?ûs advice about the chief duty of beginners in the spiritual life and his reflection on why the contemplative life is superior to the active life.

You will come to understand the common barriers to prayer and how to overcome them??ç??including the single greatest obstacle on your road to perfection. You will learn how to grow in recollection throughout the day and cultivate the awareness of the presence of God. Additionally, you??ç?ûll discover your predominant fault, answers to common misconceptions about holiness, and the authentic signs of spiritual progress.

In this classic foundational work for spiritual growth, Fr. Trevi??o will teach you three steps to total surrender that will lead your soul to the heights of holiness and the one thing to which you must be ever faithful on the road to sanctity.

Masterfully, through practical points and enriching explanations, he will guide you in:

Four steps to rooting out venial sin
The first quality necessary for total surrender
The surprising way we receive the highest graces
What must become our daily food (Try to guess!)
The six essential ways to love
Three signs that you have become lukewarm (Fervent souls, take note!)
You will see how to live a balanced spiritual life and avoid scrupulosity and will discover the pitfall you must watch out for as you advance. And you will learn about the source of all holiness and the golden thread that binds all the stages of the spiritual life together and unites us with God.