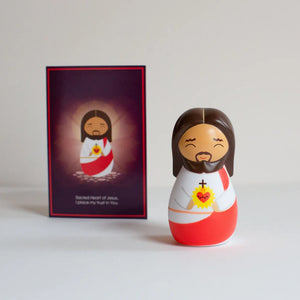 Sacred Heart Jesus Shining Light Doll
Product SKU: 850022924637
Regular price $13.99 Sale
Meet Sacred Heart Jesus!
The feast of the Sacred Heart is celebrated on the third Friday after Pentecost

"Announce it, and let it be announced to the whole world, that I set neither limit nor measure to my gifts of grace for those who seek them in my heart!"
-Jesus to St. Margaret Mary Alacoque

There have been many Saints throughout the years that have had a devotion to the heart of Jesus in one form or another. The devotion to the Sacred Heart of Jesus as we now know it, was given to us by St. Margaret Mary Alacoque who received visions of Jesus in 17th century France. When Jesus appeared, he gave St. Margaret a list of blessings for those that practiced devotion to His Sacred Heart. The list included such wonderful blessings as peace in their families and consolation in all their troubles.
Teach your children about the passionate love of Christ! Introduce the story of the Sacred Heart of Jesus using the educational insert in the box. Introduce children to the centuries old tradition of devotions and encourage them to think about what parts of their faith speak to them the most. Great for opening discussions about love, faith, tradtions and devotions.
Key Features:
Brings the Saints to life in your child????????s heart and imagination through developmentally healthy open-ended play
Grows with your child; safe for babies and toddlers, and continues to engage preschool and school age children with imaginative play centered around the ????characters???????? of their Faith.
Exceeds safety requirements for children of all ages- including those under 3
Every doll comes in a beautiful collectible quality box, complete with educational insert full of fun facts!
Slightly over 3.5???????? tall
Nothing to break or lose! Durable, lightweight, single piece construction.
Plant the seeds of a lifelong faith with everyone's favorite Catholic saint toys!