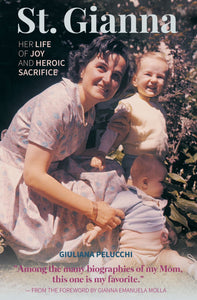 ST. GIANNA: HER LIFE OF JOY AND HEROIC SACRIFICE
Product SKU: 91207
Regular price $19.95 Sale
PAPERBACK
St. Gianna Beretta Molla was a devoted pediatrician, wife, and mother. She loved and served God in the simplest, humblest gestures of her family and professional life, juggling the demands of both worlds, as do many women today. Journalist Giuliana Pelucchi has revised and expanded her detailed biography of this amazing woman with new, profound insights. The book includes more first-hand interviews with St. Gianna's closest relatives, including her beloved husband, and touching testimonies from those who knew her best. Praising the book, Gianna Emanuela, St. Gianna's daughter, says, "Among the many biographies of my Mom, this one is my favorite."
As a great example of a saint with a vocation to married life, St. Gianna was a profoundly prayerful woman who lived her faith daily-even when it cost her. Fully dedicated to her family and a profession she pursued passionately, she was also an avid hiker and skier, and a talented artist and musician. St. Gianna is truly a model of holiness for our times.
The life of this amazing woman shows us how keeping our relationship with God at the center of our lives allows grace to affect all our decisions, especially difficult ones. St. Gianna exemplifies how ordinary, daily experiences are important opportunities for evangelization. As a compassionate doctor who spent time helping women with difficult pregnancies, she carried her whole practice, as well as her family, into her prayer life.
Be inspired by the story of this joyful woman, whose fidelity as a wife, mother, professional, and follower of Jesus has been declared heroic by the Church.