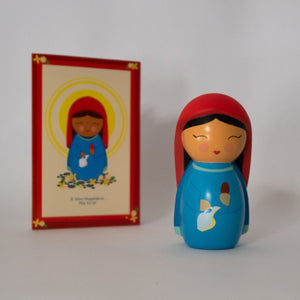 ST MARY MAGDALENE SHINING LIGHT DOLL
Product SKU: 850022924088
Regular price $13.99 Sale
Meet St. Mary Magdalene
St. Mary Magdalene (July 22)
Patron of: hairdressers, perfumeries, pharmacists, women
St. Mary Magdalene was one of the first followers of Jesus, and the first person to meet Him after his resurrection on Easter morning. She was a loyal follower and provided for the disciples ministry from her personal wealth. Mary Magdalene is depicted holding a red egg, a symbol of the resurrection.
Teach your children about discipleship and evangelization! Introduce the story of St. Mary Magdalene using the educational insert in the box. Encourage children to think about the disciples of Jesus. Jesus called people from all different walks of life to follow him, and they all had different jobs! Mary Magdalene played an important role in supporting Jesus' ministry. How does God call us to support other Christians? St. Mary Magdalene is also a great Saint to think about the miracle of the resurrection, and encountering the Risen Lord.
Key Features:
Brings the Saints to life in your child????????s heart and imagination through developmentally healthy open-ended play
Grows with your child; safe for babies and toddlers, and continues to engage preschool and school age children with imaginative play centered around the ????characters?????¬ of their Faith.
Exceeds safety requirements for children of all ages- including those under 3
Every doll comes in a beautiful collectible quality box, complete with educational insert full of fun facts!
Slightly over 3.5?????¬ tall
Nothing to break or lose! Durable, lightweight, single piece construction.
Plant the seeds of a lifelong faith with everyone's favorite Catholic saint toys!