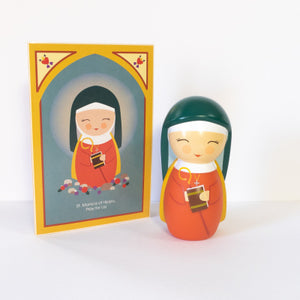 ST MONICA SHINING LIGHT DOLL
Product SKU: 854386004554
Regular price $13.99 Sale
Meet St. Monica!

St. Monica (August 27th )
Patron of: the conversion of relatives, difficult marriages, disappointing children, victims of unfaithfulness

"Nothing is far from God"
-St. Monica

St. Monica of Hippo is well known because of her very famous son, St. Augustine of Hippo. St. Augustine wrote some of the most well known pieces of Christian literature, but there was a time in his life when he wasn't a Christian. It was through the intercessory prayer of his mother (as well as her good example and continued presence in his life) that he returned to the Christian faith. While he had never been baptized as a baby, because his pagan father would not allow it, St. Monica had planted the seeds of Christianity in his heart from birth.
St. Monica even followed St. Augustine from city to city to try to keep him from ruining his life with sin! Her tireless prayers and loving example ended up converting her pagan husband, Patricius, a year before his death. She also converted her mother-in-law (who had been unkind to her for many years!). St. Monica is an amazing example of never giving up hope.
Plant the seeds of a lifelong faith with everyone's favorite Catholic saint toys!
Included in the box is a fun and educational insert.
Each doll is made of high quality rotocasted vinyl; which means nothing moves, breaks or falls off! The dolls have been safety tested and approved for children of all ages (zero to 100!) Measuring at slightly over 3.5 inches- this little figure is a perfect fit for a child's hand, and makes an adorable addition to a desk or nightstand.
Shining Light dolls are also great hospital gifts; easy to clean, light and unbreakable, a cheerful reminder of our family in heaven!
A fantastic blend of new and old, these dolls are a great way to introduce your love ones to the beauty and depth of the Christian faith! Shining Light Dolls are our friends for the journey, little lights to the world! For children, and the young at heart!
Safe for children, toddlers and babies of all ages- from zero to 100! A fun and faithful gift for children and adults alike!