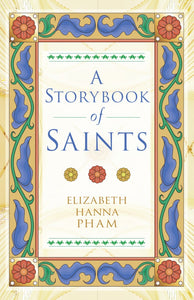 STORYBOOK OF SAINTS
Product SKU: 0681S
Regular price $18.95 Sale
Pages:

?????¡

224

Format(s):

?????¡

Paperback
Written for children five to eight years old ??????? but a delight for all readers ????????????¡A Storybook of Saints?????¡relates inspiring stories about the world????????s greatest heroes: the saints.
Focusing less on historical details and more on memorable events in the lives of each, this indispensable book is not so much a collection of biographies as a delightful storybook.
As such, the dozens of compact tales it comprises are not written primarily to catechize children or to instruct them on myriad facts about these saints. Rather, they are intended to awaken in children a deep love for these good souls ??????? the kind of love children have for Frodo Baggins, King Peter of Narnia, and Robin of Loxley. The kind of love that sends young children off in a flurry to find a costume; that begins a relationship today that extends into tomorrow, the next day, the day after that, and ever onward into Heaven.
In a word, this collection of delightful stories will spark the imagination of children, move their hearts, and inspire their souls, leading each of them, finally, to fall in love with the best kind of heroes ??????? the saints.