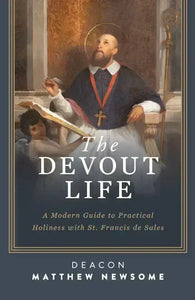 The Devout Life: A Modern Guide to Practical Holiness with St. Francis de Sales
Product SKU: 9781644138625
Regular price $19.95 Sale
BY MATTHEW NEWSOME
One of the greatest spiritual classics of all time is Introduction to the Devout Life, the St. Francis de Sales masterpiece written in the seventeenth century. Deacon Matthew Newsome breaks open this divine guide from one of the most sought-after spiritual counselors in history and helps you apply it to your life today. In these pages, you will find the direction you need to grow closer to God and practice Christian discipleship regardless of your vocation.

De Sales insisted that devotion is for everyone, not just the professional religious class. He wrote for the average layperson, as Deacon Matt does in bringing de Sales????????s wisdom to any Christian looking for practical advice on advancing in holiness today.

Deacon Matt aligns short, easy-to-read chapters derived from de Sales????????s work with relatable circumstances of modern life to prepare you for a life of communion with God. You will learn how to cultivate prayerfulness and virtue, weed out temptations, and enkindle holiness. Included are questions for self-reflection, Scripture for contemplation, and additional step-by-step meditations. This book is perfectly designed for both private devotion and small-group discussions.

You will also learn:

How to rid yourself of sinful desires and ????fly like an eagle????ª
Twelve tips and meditations to help you make a fruitful general confession
Eight practical techniques to become more focused and recollected in prayer
A five-point method for developing mental prayer and overcoming obstacles in prayer
Sure ways to overcome worry and sadness and stay the course
Moreover, you will find out how to assist worthily at Mass and derive the most benefit from your reception of the sacraments. You will discover how to grow in the virtues you need most in your state in life, married or single, through examples from Scripture, the saints, and daily living.

De Sales used practical examples for the people of his time to teach them about spirituality, and, in these pages, Deacon Matt similarly lays out the path to devotion for you on such issues as fostering virtuous friendships, fasting wisely, socializing charitably, enjoying leisure, living generously, and more. With de Sales as your guide, you will learn not only how to grow in holiness but how to live a grace-filled life with consolation and joy.