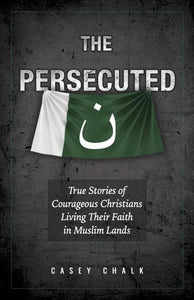 The Persecuted: True Stories of Courageous Christians Living Their Faith in Muslim Lands
Product SKU: 5501
Regular price $18.95 Sale
For 2,000 years, the persecution of Christians has taken place wherever the Church has been present ??????? essentially, in every corner of the world. More than 260 million Christians around the globe are facing some form of persecution right now, and that number continues to climb each year.?????¡
The Persecuted?????¡is an astonishing book that tells the real-life stories of brave Christians who are suffering intimidation, oppression, and violence right now as they resolutely live out their Faith in Muslim lands. The author, Casey Chalk, shocked by what he saw as a journalist living overseas, presents with skill and sensitivity these riveting stories that he witnessed firsthand.
This global tour of Christian persecution will take you from the slums of Karachi, where Islamic extremists harass and kill beleaguered Christians, to the bustling, exotic streets of Bangkok, where Christians hide in fear while awaiting adjudication of their refugee applications. You????????ll meet brave Christians who escaped Muslim persecution to make a new life in the Netherlands, and others who slipped away only to become trapped in Russia. Casey tells the stories of Christians who were tortured and, in some instances, killed in Muslim nations ??????? and then lays out a strategic plan for rescuing as many as possible from their plight.
Chalk also addresses other fundamental issues, explaining why Islam????????s radicals feel they must declare war on Christianity and why they persist in enslaving the Christians in their midst. He also explains how they have managed to get away with this appalling conduct in the face of powerful international organizations???????and the Catholic Church herself???????spotlighting the persecution and calling for its end. ?????¡
These harrowing stories bring you face-to-face with fellow Christians enduring the ultimate test in distant lands. They will strengthen your faith and also prepare you for what may lie ahead here in the West if we fail to heed the advice given in this timely and important book.