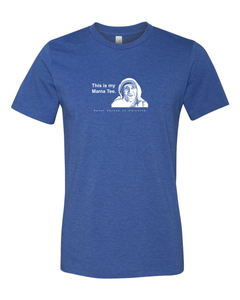 This is My Mama Tee Shirt - St. Teresa of Calcutta T Shirt Large
Product SKU: TIMMT-BL-L
Regular price $18.95 Sale
Look at this beautiful face!?????¡That is our Mama T on that tee! Stand with your Mama and show everyone her true beauty!

Mother Teresa picked up and held people reeking of plague and death, festering?????¡with incommunicable disease, sighing?????¡with tuberculosis on their breath, and oozing AIDs, hepatitis, and the like through untreated, open sores. Often under the influence of alcohol and drugs, these people would throw?????¡hateful, horrible insults at Mother Teresa and her missionary sisters. Alongside her sisters, Mother Teresa would clean them, feed them, and give them a bed of clean sheets for the night. Those people would leave the next day, get drunk and filthy once more, and Mother Teresa would do it all over again and again and again. Who does that? Our Mama T, thats who! Not only did Saint Teresa of Calcutta?????¡do that; her missionary sisters still do that; and you and I do that whenever we selflessly serve Christ in others. Saint Teresa of Calcutta, pray for us!
Extend the testimony of St. Teresa of Calcutta to others, regularly regain your inspiration from St. Teresa of Calcutta's example, or exercise generosity by giving a friend the gift of St. Teresa of Calcutta's witness to Christ and His Church with this?????¡That One Sheep?????¡shirt.
Retail fit
Unisex sizing
Coverstitched collar and sleeves
Shoulder-to-shoulder taping
Side seams