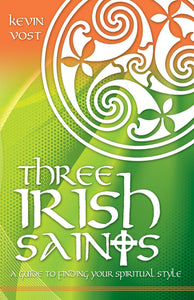 Three Irish Saints: A Guide to Finding Your Spiritual Style
Product SKU: 2353
Regular price $16.95 Sale
Are you a thinker, a doer, or a lover?
In Three Irish Saints: A Guide to Finding Your Spiritual Style, Dr. Kevin Vost mines ancient and modern sources to reveal what Saints Kevin of Glendalough, Patrick of Ireland, and Brigid of Kildare can teach us about the joys of contemplation, evangelization, and charitable living. Thinking, doing, and loving!
Included is a a simple self-test to find out which spiritual master you are most like.
Would you rather: plop down in your easy chair and enjoy a good book? Celebrate life and the company of others? Engage in long conversations with your close friends?
Vost examines the lives of these three great saints, unearthing the gifts and virtues that made one a thinker, one a doer, and one a lover.
So which one are you?
Read the book. Take the test. And find out.