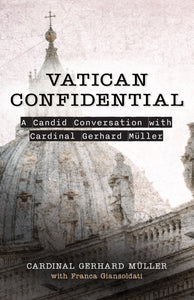 Vatican Confidential
Product SKU: 9798889111047
Regular price $17.95 Sale
A Candid Conversation with Cardinal Gerhard Müller
?"At this moment, I see the Church on the edge of a precipice. . . . What happened during the sack of Constantinople comes to mind, when the Turks besieged the city, and at the moment of greatest danger, the theologians were caught up in debating among themselves about the color of Our Lady's eyes." Thus states Cardinal Gerhard Müller, former prefect of the Congregation for the Doctrine of the Faith under Benedict XVI and foremost defender of the traditional Church, who, for the first time, narrates from the inside some of the most significant episodes of the last two pontificates.
In this riveting, thorough, and uncensored interview by Vatican correspondent Franca Giansoldati, the German theologian explains the doctrinal confusion wrought by various themes of the Francis papacy that risks fanning the flames of heresies old and new. With a magnifying glass, he examines topics ranging from Vatican foreign policy to the handling of the pedophilia scandals, from gender, abortion, and end of life to the abdication of Benedict XVI, from the Ukraine war to the risk of schism and predictions for the next conclave.
In these pages, you will discover:
What was behind Cardinal Müller's being distanced from the Holy Office
Whether the nomination of new cardinals is linked to a papal attempt at centralizing power
The limits of the encyclical

 

Praedicate Evangelium, which redesigned the Roman Curia
Whether there is a gay lobby at the Vatican, and the true roles of women in the Church
Why the College of Cardinals never intervened in the controversial Becciu case
What is happening to the Church in Germany, America, and China
The candid and revelatory answers to these and many other questions enliven Cardinal Müller's reflections and provide an antidote to the twenty-first century's profound crisis of religion. Readers will come to appreciate the balance required between obedience in the Church and defense of the truth, how attempts to protestantize the Church are destroying faith in the true Christ and the sacraments, and the bold solutions the cardinal offers to set the Church on a path to authentic reform.