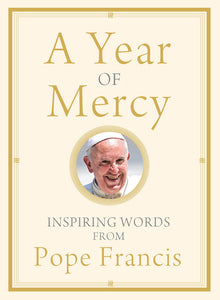 YEAR OF MERCY - 9781632530820
Product SKU: 9781632530820
Regular price $14.99 $15.99 Sale
"Dear brothers and sisters, I have often thought of how the Church may render more clear her mission to be a witness to mercy; and we have to make this journey. It is a journey which begins with spiritual conversion. Therefore, I have decided to announce an Extraordinary Jubilee which has at its center the mercy of God. It will be a Holy Year of Mercy. We want to live in the light of the word of the Lord: 'Be merciful, even as your Father is merciful' (cf. Lk 6:36)."
???????Pope Francis, from his announcement of 2016 as a Holy Year of Mercy
Only a few years into his papacy, Pope Francis has spoken and written many times on the theme of mercy, going so far as to call it ????the Lord????????s most powerful message.?????¬ Published in partnership with the Vatican, A Year of Mercy celebrates the Jubilee year of 2016 with a collection of his most moving words on the subject of mercy.
These bite-sized quotes bring the pontiff????????s warm, accessible style to bear on the message of God????????s love and his infinite capacity for forgiveness if we simply lay our sins before him. Pope Francis addresses not only God????????s mercy for his people, but also our own duty to be merciful to our fellow sinners: ????Let us be renewed by God's mercy, let us be loved by Jesus, let us enable the power of his love to transform our lives too; and let us become agents of this mercy, channels through which God can water the earth, protect all creation and make justice and peace flourish.?????¬
This wonderful collection is sure to bring hope and comfort to all who read it. Give it as a heartfelt gift or use it as a yearlong companion to renew and reaffirm your own trust in God????????s infinite mercy.
PAPERBACK